Business Awards 2019/2020
I want to say a massive thank you from us to all our 100 guests.
Also Alan and I do just want to congratulate all our winners and runners up and indeed all who entered the 2019/20 Business Awards. We would not the be the Chamber we are, today without your support. These past nine months have been challenging for so many of us, so it was good to celebrate successes across Hounslow and West London, albeit via Zoom. I had never even heard of it in March! I am so impressed with our tech team, courtesy of 2k Tiger, and also the Q&A's with Mark Ramprakash – what a charming person.
Alan and I certainly enjoyed the evening. We were quite emotional and can't wait to get back to 'live' events, but in the meantime we will continue with Zoom! Now back to you, our businesses, which is what the Chamber is all about:
"Thank you for a fantastic evening, we didn't realise an online awards ceremony would be so much fun! So well organised and we appreciate all the effort that went into it. Love the goody bags too. Very proud to have picked up an award also." Shivani and Nila, Cranford Opticians
"Alan and Sally. The virtual awards last night were a triumph. So interesting, organised and a natural, kind energy from start to finish. Memorable and heart warming." Jacqueline Purcell, Jasper Alliance London Limited
"Great night last night BTW. Congrats to you and the team for the Awards event." Lance Hobbs, HR Dept
"Congrats on a great event this evening – it went off really well!!!" Helen Roberts, CPG
"A great evening and well done to you both. It was so good to see all those businesses, from across the Borough, recognised. I did enjoy it and thank you." Paul Kennerley, DL for Hounslow
And finally some words from Ash Sanjenbam of Woodnet Lifetstyles Ltd, Winner of Best Business of the Year 2019/20:
"Thank you ever so much, Sally, Alan and all at the Chamber – what a year, what a whopper of a year! Very humbled with the Award and the recognition tonight. I am celebrating the night with Mox and my two beautiful kids."
Please see the Ceremony Brochure here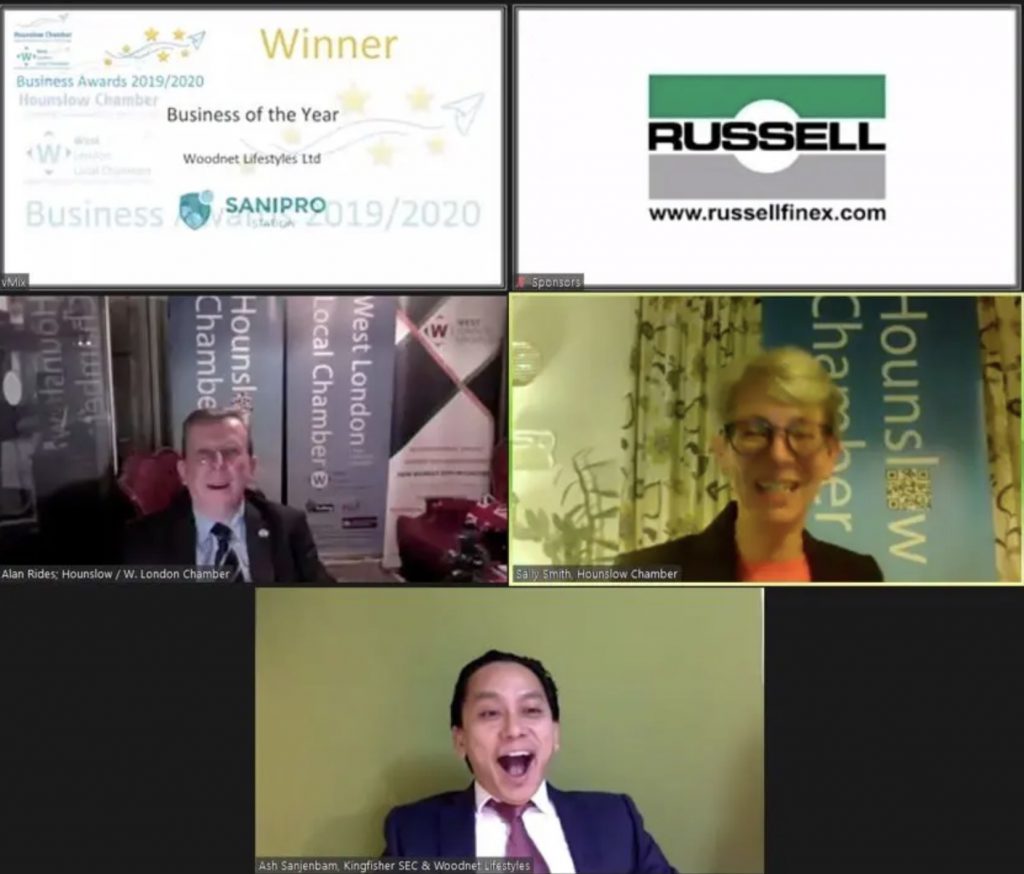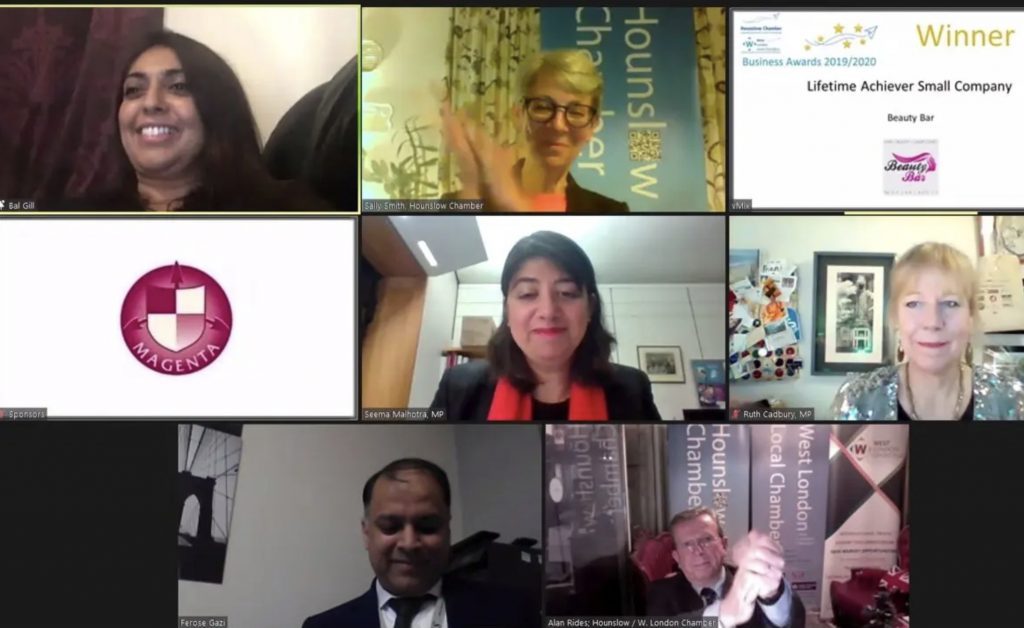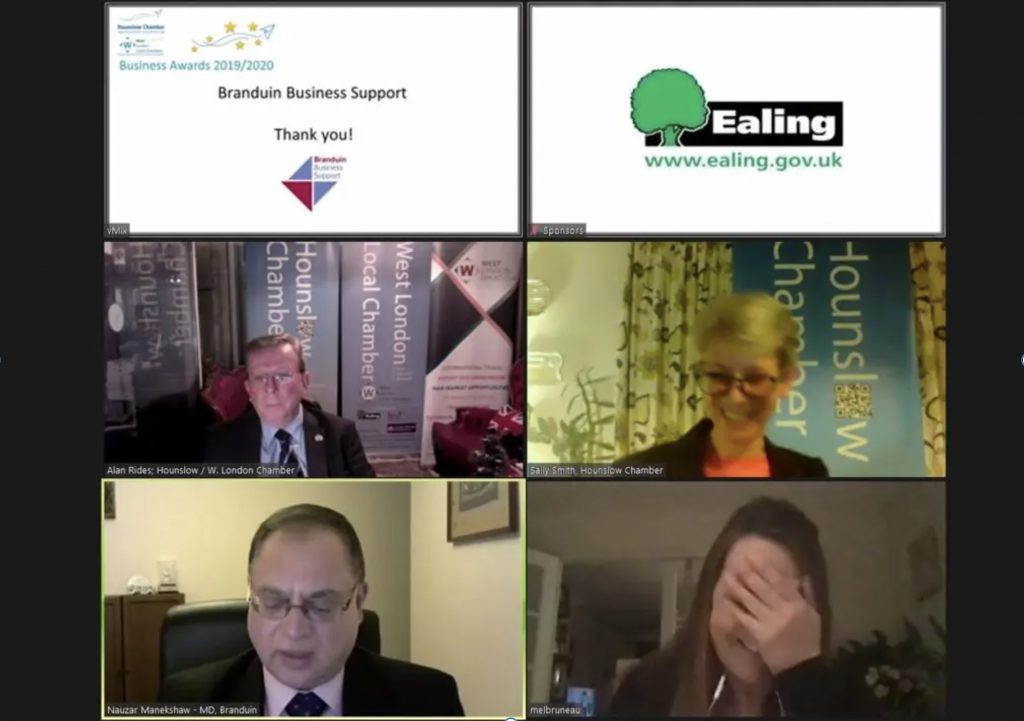 Below are all the worthy winners:
Best Business for Health & Wellbeing:
Cranford Opticians – Winner
Sofresh Kitchen – Highly Commended
Beauty Bar – Highly Commended
Best Business for Hospitality & Leisure:
One Golf Club – Winner
Holiday Inn London – Brentford Lock – Highly Commended
2k Tiger – Highly Commended
Best Business for Marketing and Social media:
The Kettle Shed – Winner
Fastsigns Hammersmith – Highly Commended
Contactus – Highly Commended
Best Business Support & Advice/Service Company:
Consolidated Logistics Services Limited – Winner
Safer Business Hounslow – Winner
Oasis Accountants Ltd – Highly Commended
Best Charity/Social Enterprise:
Serving Our Superheroes – Winner
Rotary Club of Hounslow – Highly Commended
Thamesbank Credit Union – Highly Commended
Best Entrepreneur:
Kingfisher SEC & Woodnet Lifestyles Ltd – Winner
Magenta Security Services – Highly Commended
2k Tiger – Highly Commended
Best Exporter of the Year:
SKS Group – Winner
Russell Finex – Highly Commended
Best Green Business:
Magenta Security Services – Winner
Chiswick Park Enjoy-Work – Highly Commended
Russell Finex – Highly Commended
Best Micro Company:
London Counselling Practice Limited – Winner
Sofresh Kitchen – Highly Commended
Insightful Images – Highly Commended
Best Small Company:
Danhouse Security Ltd – Winner
Cranford Opticians – Highly Commended
Best New Business:
Woodnet Lifestyles Ltd – Winner
Atrium Hotel Heathrow – Highly Commended
Venture X Chiswick Park – Highly Commended
Best Retailer:
Hearing Well – Winner
Beauty Bar – Highly Commended
Cranford Opticians – Highly Commended
Best Security Business – Cyber & Physical:
Kingfisher SEC – Winner
Danhouse Security Ltd – Highly Commended
Magenta Security Services – Highly Commended
Best Tech Business:
Intellicasa Ltd – Winner
Consolidated Logistics Services Limited – Highly Commended
Serendipity int ltd – Highly Commended
Employer of the Year:
Danhouse Security Ltd – Winner
Coalo – Highly Commended
Fastsigns Hammersmith – Highly Commended
Lifetime Achiever Large Company:
Chiswick Park Enjoy-Work – Winner
Lifetime Achiever Small Company:
Chamber of Commerce Recognition Award:
Business of the Year:
Woodnet Lifestyles Ltd – Winner
If you are interested in sponsoring the Business Awards in any way, please contact Sally Smith on sallysmith@hounslowchamber.org.uk, sallysmith@westlondonlocalchambers.org.uk or 07879 813817