Only 10% of British businesses export, while 60% of Chamber members do, so if you want to talk to an export professional, get in touch:) Our Chamber works with the West London Export Club and West London Business giving professional help in order to promote international trade for west London.

We now have regular international trade events on the following regions: Americas, Europe, Africa, Middle East, Asia and Pacific Rim.

These are general or product specific, all with an environmental theme.

Events include speakers from DIT, UKEF, Embassies, Major banks, Exporters Case study, Export Documentation review, FOREX and Finance.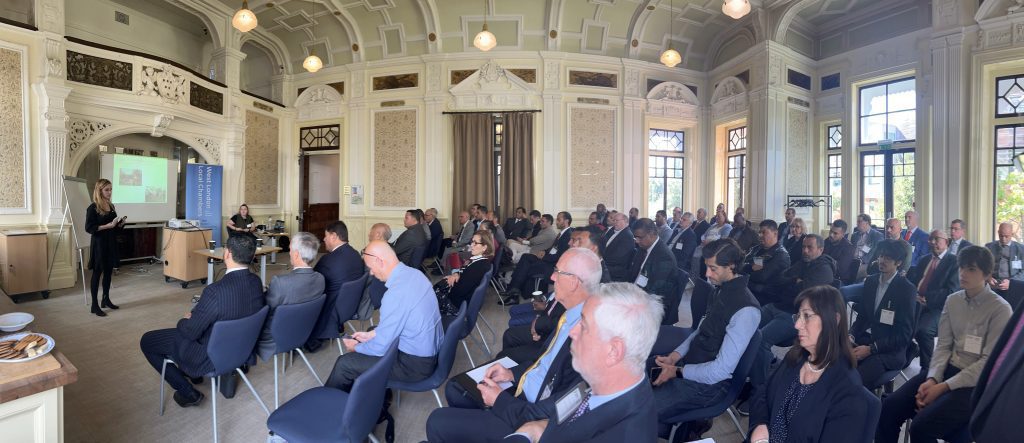 Through our partnership we are able to offer a wide range of export documentation services. For a full price list please email alanrides@westlondonchambers.org.uk
Plus, through our partners in the freight forwarding, cargo logistics sector we are able to refer and advice exporters on product transit into export markets.
HSBC and West London Chambers – HSBC Currency Zone
For international businesses or those exploring the possibility of new markets, HSBC Currency Zone offers a simple, free service to check FX rates alongside free access to insights and HSBC Global Research.
It is available to everyone – you do not need to be a customer of HSBC to use it. Access it here and start tracking the rates that matter to your business.
WEST LONDON EXPORT CLUB
Our West London Export Club is a joint venture with West London Business to help small and large businesses expand internationally.
Now is the ideal time to take your British products to the world and export.
So do you want to export successfully?
Work with us for 1-2-1 support to develop a proactive export plan.
We can assist in the following:
Finding the right export market for you
Ensure you have your IP covered
Is your labeling / packaging correct for your chosen market
We can help and introduce you to an agent/ distributor/ open your own office in your chosen market
Is your Bank able to offer international trade finance?
We can offer assistance with letters of credit / documentary collections / forfaiting
Compliance checks/ legal issues
Finding the right Freight Forwarder with key market specialisation
Contact our award winning International Trade specialist:
Export Documentation
Our International Trade team will help you with your export documentation and can certify and authenticate the documents including:
Certificates of Origin
EUR1
ATR
Commercial Invoices and other documents
We work closely with Government organisations such as Dept. International Trade (UK Trade and Investment), HM Revenue and Customs and the Foreign and Embassies and banks, to name a few, to help you with your International Trade Issues, including Brexit. Please see https://www.britishchambers.org.uk/media/get/Business%20Brexit%20Checklist.pdf
Translation Services
We provide language support for businesses and can offer you a comprehensive range of services including:
Translating – websites, leaflets, business cards, technical, legal
Interpreting – conferences, delegations, telephone interpreting
Language Training
Voice Overs
Training and Seminars
We provide expert training on a variety of related international trade topics. Whether you are looking to explore new markets or train your staff on mechanics of exporting, we can provide expert training at highly competitive rates.